... just because it gives me an excuse to bake!
So I've been limiting myself to baking just so I would eat less of the yummy goodness that I am a sucker for.
Lynn: "Just bake for us and not eat then!"
Hell no. I'd like to enjoy my creations please and thank you very much.
So the parents are here and I have been having fun baking up a storm. Lovin' it.
The only reason why I made this lemon-lime curd was because I attempted to make a chocolate pavlova that I have been eyeing on for the longest time. A good friend who loves baking told me that it was the easiest thing to do and I thought, why not?
My sad little chocolate pavlova that was meant for dessert for my parents FAILED. I did not whip the eggs enough. It certainly did not look like this...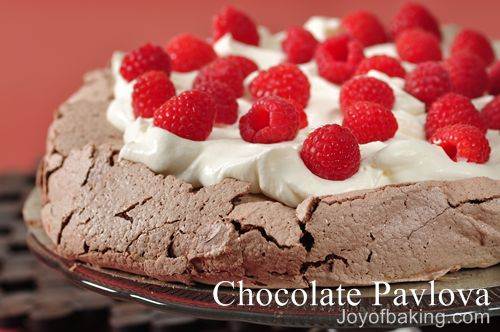 Mine was flat as a piece of paper.
Anyways, I had leftover egg yolk from that recipe and decided to make this Lemon-Lime Curd from
MyKindOfFood
.
Lemon-Lime Curd
1 lemon juiced
1 lime juiced
3 egg yolks (you may need another yolk if you need to have a thicker curd)
6-8 tbsp sugar (separated) or more to taste (if you prefer a sweeter curd, add ½c to ¾c sugar)
4 tbsp butter, separated
1. Over a pot of boiling water, set a metal mixing bowl over top. Pour the juice into the bowl, add yolks and whisk continuously. Add sugar tablespoon by tablespoon, if you like it abit tart. Check for sweetness. Add as much or as little based on your preference.
2. Add butter 1 tbsp at a time. Whisk until well incorporated.
3. Lemon curd should be thick enough to coat the back of a wooden spoon.
4. Pour into a clean container and refrigerate.
Result: Super Yumms.
I made mine less sweet just because I am trying to bake as healthy as I can. It goes well with anything. Pancakes, toast, or just off your spoon. Super easy peesy!!!
After making whole-wheat mixed berries pancakes for breakfast yesterday, I used the leftover mixed berries for this recipe for today's breakfast.
Mixed Berry Almond Cake
6 tablespoons unsalted butter, softened, plus more for pie plate
3/4 cups all-purpose flour
3/4 cups almond meal
1 1/2 teaspoons baking powder
1/2 teaspoon salt
1 cup minus 2 tablespoons of sugar
2 tablespoons of sugar for sprinkling on top
1 large egg
1/2 cup milk
1 teaspoon pure vanilla extract
Frozen or fresh mixed berries
1. Preheat oven to 350 degrees. Butter a 10-inch pie plate. Sift flour, almond meal, baking powder, and salt together into a medium bowl.
2. Put butter and sugar in the bowl of an electric mixer fitted with the paddle attachment. Mix on medium-high speed until pale and fluffy, about 3 minutes. Reduce speed to medium-low; mix in egg, milk, and vanilla.
3. Reduce speed to low; gradually mix in flour mixture. Transfer batter to buttered pie plate. Arrange strawberries on top of batter, cut sides down and as close together as possible. Sprinkle remaining 2 tablespoons sugar over berries.
4. Bake cake 10 minutes. Reduce oven temperature to 325 degrees. Bake until cake is golden brown and firm to the touch, about 1 hour. Let cool in pie plate on a wire rack. Cut into wedges.
Cake can be stored at room temperature, loosely covered, up to 2 days. But obviously, we could have finished the entire pie if we weren't watching our calorie counts. LOL.
Crappy picture. Breakfast this morning. The Lemon-Lime Curd went super duper well with the Mixed Berry Almond Cake!!!! Even better with a cup of coffee and homemade Guava Greek Yogurt.
:)
Yeah, I am blaming my parents for ruining my diet. But then again, I only see them once a year, how often do I get to bake for them?! Totally worth it :)